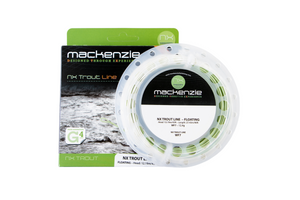 mackenzieflyfishing
NX Trout Line Range
Sale price Price £41.66 Regular price
Using the expertise of Mackenzie design team members Paul Procter & Andrew Toft, Mackenzie Fly Fishing are excited to bring you the NX Trout fly line. We've tailor made every single taper to provide the very best in performance. The NX range have unparalleled turnover that makes casting them an absolute delight to use, in all casting styles. A stable line is paramount when fly casting, so we've paid special attention to rear tapers. In short, the NX lines will deliver time and again at every distance, whether you're landing a delicate dry fly a mere 30ft away or reaching for the horizon using larger flies.

NX – WF3
At this end of the spectrum, attention to detail is everything. The Mackenzie Design Team have painstakingly developed precise tapers with this 3-weight line, so it delivers your fly delicately on target. A specially formulated supple coating makes this perfect for those with dry fly fishing in mind. However, possessing a fine diameter the NX Trout line appeals to anglers who prefer short line nymphing or spider fishing techniques.
NX – WF4
Conscious that a 4-weight is the "go to" line for connoisseurs on rivers, we've invested an inordinate amount of time to develop a line that performs beyond expectations. In terms of casting and presentation, the NX # 4-weight produces smooth, clean loops time after time. Landing with a degree of delicacy, if you strive for excellence this is the perfect line.
NX1 – WF5
Carefully crafted tapers make this 5-weight outstanding in every department. The front taper gives you authority when dealing with headwinds, so turnover is instantly realised. An extended rear taper provides stability for distance if required. Like all NX Trout lines, a distinct colour change helps determine the optimum line carry and prompt to shoot line.
NX – WF6
In many respects this 6-weight is the perfect all-rounder. A longer rear taper facilitates line carry to maintain balance for stable loops when striving for distance. A refined front taper not only ensures clean turnover, but lands delicately when stealth is the order of the day. Like all NX trout lines, you won't be left wanting when roll casts, or Spey casting is in order.
NX – WF7
Capable of loading in ultra-quick time and achieving distance with ease the NX 7-weight is a must for those who fish larger waters where long-range casting is an advantage. Perhaps most surprising is how this line performs when roll/Spey casting, making it ideal for fishing on still waters but also for sea trout and light salmon work on rivers. If you're a one line for everything sort of person then the NX 7-weight is the perfect line for you.